Teacher Guide
On this page:

What is inclusive education?
Inclusive education means all students, including students with disabilities, are welcomed by their school and supported to reach their full potential. Inclusion is most effective when schools aim to create a culture that celebrates diversity and builds on the strengths of each student. Inclusive schools nurture professional learning communities that empower teachers to create optimum learning outcomes for students with disabilities through the use of best practice approaches and current, evidence-based strategies.

The Disability Standards for Education (2005) underpin inclusive education in Victorian schools. These legal standards are based on a human rights framework and have been introduced in order that students with disabilities can participate in education on an equal basis with their peers. Schools need to comply with three main obligations under these standards—consultation, reasonable adjustments and elimination of harassment and victimisation. To support the full inclusion of students with disabilities, schools and teachers may need to make adaptions and modifications to the school environment, classroom layout and the way instruction is provided.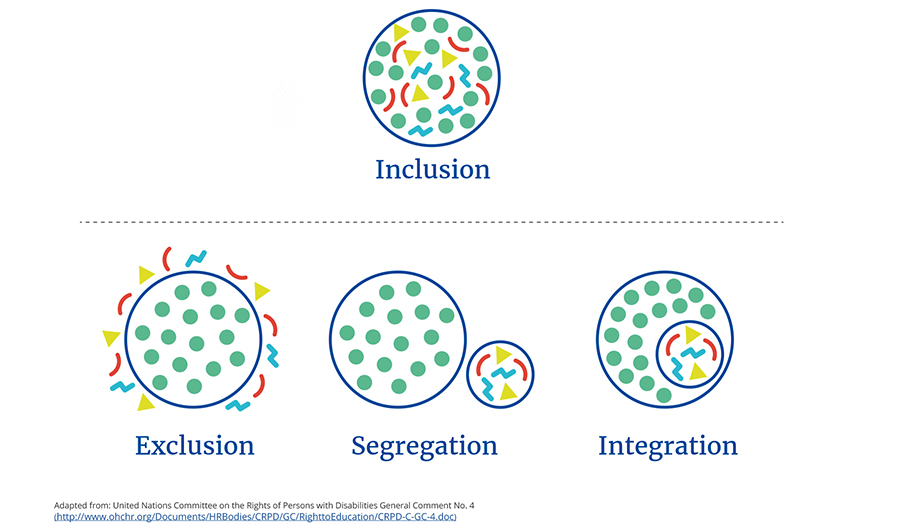 What is an inclusive teacher?
An inclusive teacher supports all students to participate, learn and succeed in all aspects of education.
What are disabilities and developmental challenges?
Students with disabilities and developmental challenges might have limitations in mobility (such as difficulty or inability to walk), the way they think or behave (e.g. intellectual disabilities, autism, behavioural/emotional disorders), and sensory difficulties (e.g. vision or hearing).  

How to be inclusive of all students
1. Build partnerships with the student and their family
Building connections with the student and their family can promote inclusion. Work together to identify learning goals, and to create positive strategies to achieve these goals. Many families inform their school that their child has a disability at the time of enrolment at school. However, some families may not wish to disclose that their child has a developmental challenge or disability, or they may not be aware of it yet.
If you notice a student has some challenges in the classroom you can sensitively discuss this with their family. When talking with family members, focus on the learning task/s the student is finding difficult, as well as the student's strengths. Read more about communicating with families in our teacher guide to parent-teacher meetings. Work with the student and their parents or caregivers to develop effective learning strategies and modifications. These can become part of an Individual Education Plan (IEP). Learn more about IEPs on our transitions page.
If a student struggles with learning tasks or challenging behaviour and doesn't respond to targeted strategies, teachers can advise the student's parents to seek further help and advice. This can be through their general practitioner, paediatrician, other medical or allied health professionals or Student Support Services.
2. Learn the basics
You can make a positive difference in a student's life by providing an inclusive environment. Not sure where to begin? See the basics guide for a list of simple things teachers can do to make a difference. Next, find out more about the language used when talking about a student's disability and how to use strengths-based language that focuses on their strengths, interests and personality traits.
3. Collaborate with other teachers and staff
Collaboration between teachers is important for creating a consistent approach in every class to learning and behavioural strategies for a student with disabilities.  For teachers, learning how to work well with students with disabilities may involve learning new skills and trying new approaches.
Teachers can support each other to be inclusive and work out the best ways to tailor the content of their classes.  They can talk together about strategies and activities that worked well with students, as well as those that didn't. This way teachers can learn from each other's experiences and will feel more supported.  
Peer mentoring can build teachers' skills and confidence. You may consider inviting an experienced secondary teacher who has worked with secondary students with different abilities to work with you for a day, or working with a specialist in the field to support the participation of students with disabilities and developmental challenges in your program.

Teachers can also promote and support a whole-school approach to inclusion.
4. Learn about the different types of disabilities
Learn about the different strengths students may have, and read evidence-based strategies that are effective in school settings for each disability.
5. Learn about common challenges
You might see students in your class needing support for different kinds of challenges. These might be challenges following instructions, staying calm or building relationships. You can read more about some common challenges students with disabilities may have and find strategies and tips to support your teaching.
6. Bringing it all together
The inclusive teacher strategies provide a summary of evidence-based strategies for including all students in secondary school.
To support a student with a disability or developmental challenge in the classroom, you can use the inclusive questions for teachers.
To support a student with a disability or developmental challenge with behaviour, the ABC framework may be helpful.