Secondary Students Transition Guide

Transition into VCE/VCAL
Moving into the last couple of years of secondary school is an exciting time. This is a time where you will become more independent and you will be making decisions about what you want to do when you finish school.

Choosing an education pathway
There are a number of pathways you can take to help you achieve your career goals. From early secondary, your Student Support Group will work with you to identify your career interests and goals, and your strengths and abilities. Your ideas are important, and it is okay to speak up and make sure your views are heard! There are many pathways that you can choose from, and you can achieve your career goals with the right support and planning.
Traditional pathways (VCE, VCAL, VET, SBAT):
If your plan to attend a university, you will need an Australian Tertiary Admission Rank (ATAR). This means that you will need to complete the Victorian Certificate of Education (VCE).
It is important to check specific course requirements before making a decision on which pathway is best. The careers advisor at your school can talk to you about these.
The Victorian Certificate of Applied Learning (VCAL) is a more 'hands on' approach to learning. This can help you gain entry to TAFE, apprenticeships, traineeships or employment. In some cases it is possible to create a VCAL pathway for entry to university (talk to your careers advisor).
You can also undertake Vocational Education and Training (VET) to receive a nationally recognised training qualification in a specific industry, or a School Based Apprenticeship and Traineeship (SBAT).
You may be eligible for special provision, if at any time, your ability to complete your school work is impacted in a significant way by your disability, or by other personal circumstances. You must still complete all school work related to satisfactory completion of the outcomes of a VCE/VCAL unit, but you can access a range of supports.
You can complete VCE/VCAL over several years. If you plan to attend university/TAFE, consider applying for Special Entry Access Scheme (SEAS), which allows selection officers to consider educational disadvantage.
Alternative/additional programs:
Your school or parents might suggest you complete year 11 and 12 without completing VCE or VCAL. This will mean you can keep learning with the other students in your class, and learn important skills for life and work.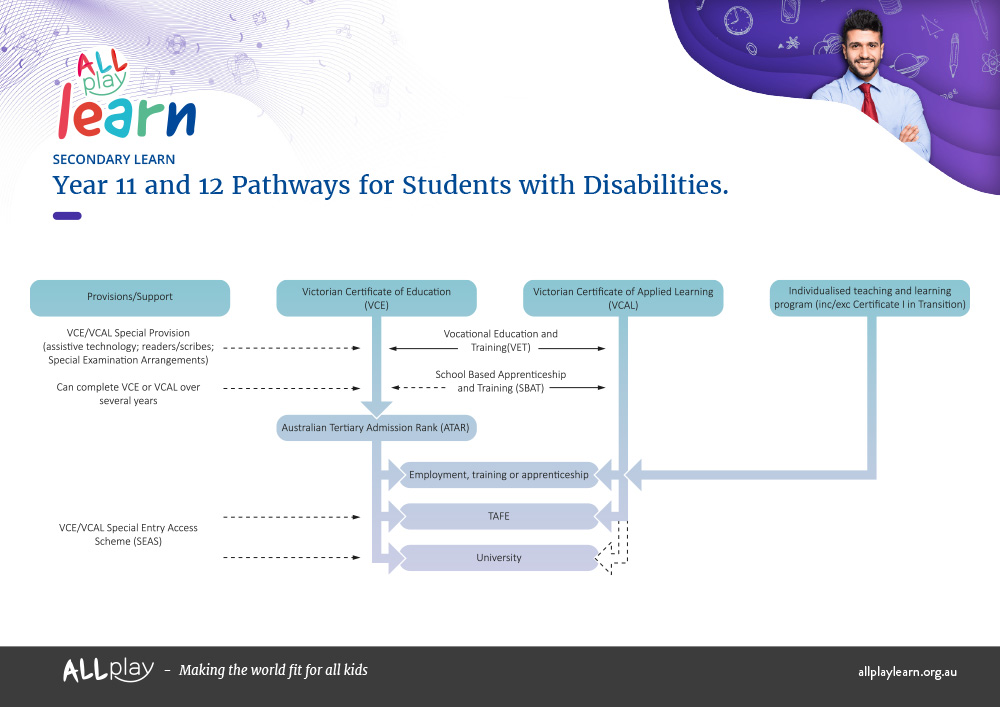 Transition from Secondary school to tertiary education, training or employment
Finishing secondary school can be an exciting time as you celebrate your achievements and become an adult. Transitioning out of secondary school can be a big milestone and sometimes teenagers might feel stressed or emotional about these changes. Your school can support you and help you get ready for these changes.
Planning your transition
Consider your personal strengths and preferences when deciding on a potential career:
Work Environment
Indoor/Outdoor – do you have sensory sensitivities to light, texture, clothing, sound, smells?
Noise – do you like/dislike noisy environments?
Work Tasks
Level of detailed work – do you enjoy work that requires lots of concentration/attention?
Repetitiveness – do you like repetitive work?
Social Aspects
Amount of contact with others – do you prefer to work with big groups, small groups, or by yourself?
Work Pace
Do you prefer a slower pace with lots of time to take in information?
Do you prefer a faster pace with lots of different things happening?
Do you like working outside of usual work hours (quiet workplace; prime working times) or within normal work hours?
Other considerations when deciding on a potential career could include:
Having high expectations
When setting goals, have high expectations about what you can achieve. Every young person has unique strengths and abilities. What may be considered a 'challenge' in one setting, can in fact be a 'strength' in a different setting – you can excel in a workplace that fits well with your strengths and interests.
Visiting facilities or employers
It may be helpful to visit training or education facilities or prospective employers to learn more about them. For example, smaller settings may be better if you find large groups or noisy environments overwhelming, or large settings may be better if you want to have a wide range of experiences and people.
Work experiences during school
Young people with a disability who work during school are more likely to be later employed as an adult. Internships, work experience, voluntary work, and casual or part-time work can help you gain experience for later in life. You can access Employer Fact Sheets for autism and ADHD which highlight the strengths and abilities of young people in the workplace.
Disclosure and Discrimination
Disclosing a disability is a personal decision. Disclosing a disability can be helpful if it leads to accommodations. Talk with your career advisor or parent about the pros and cons of disclosure, what to disclose and not disclose, and when to disclose. If you don't want to disclose you could still talk to your workplace about changes that would help you work well (e.g. "I find I get through my work more effectively in the morning before others arrive"). You can also talk to your parents or career advisor about your rights and responsibilities under the Disability Discrimination Act so that you can recognise discrimination and know what to do if it occurs.