Recognising and supporting
child/student anxiety
Resource toolkit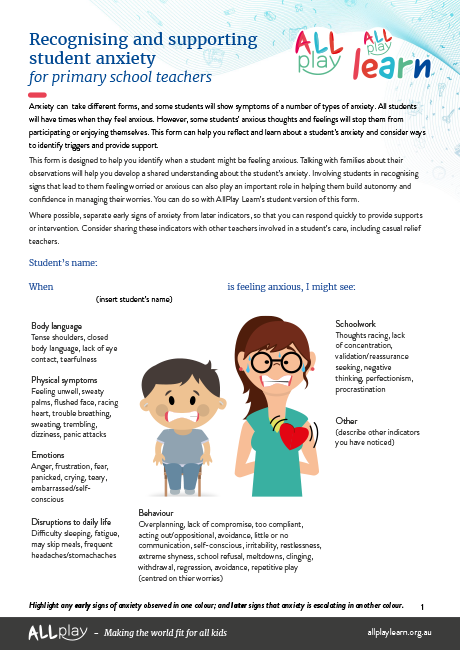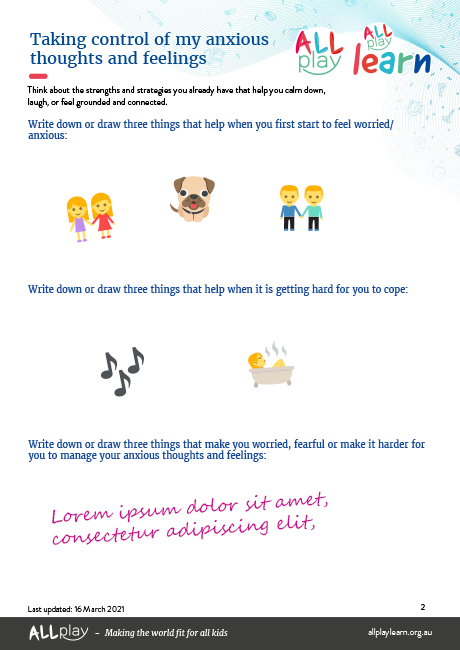 About the resource
AllPlay Learn's Recognising and supporting student anxiety forms help teachers and students to reflect on:
a student's early signs that they are feeling anxious
later signs that their anxiety is escalating
triggers or contributors to the student's anxiety
strategies that may be effective at specific timepoints

For children and students
Some secondary students may prefer a form that uses simpler and more concrete language, while others may prefer more detailed and abstract descriptions. There are two forms to choose from – one uses straightforward language to describe signs of anxiety, and the other uses more 'abstract' language, like "closed body language" and "procrastination". Consider the student's preferences and abilities when selecting a form.
This form uses simpler and more concrete language. It may be more suitable for primary aged children, and secondary students who prefer concrete language, such as some students with intellectual disability, autism, or specific learning disabilities
This form uses more detailed and abstract descriptions. It may be more suitable for secondary aged students with strong vocabulary skills, or when completed with a trusted teacher, family member or health professional who can unpack unknown terms/phrases